To increase the tourist attraction of the area around Amppipal, we want to establish "Ligligkot-Mountain-Cinema" together with the municipality. Nature is the filmmaker. Twenty to thirty seats made of weatherproof material will be set up at an altitude of 4.200 ft facing northwest. You will get a magnificent view of the Himalayan Mountains, the Amppipal Hospital, the Chepe and Marsyangdi rivers in the valley. The districts of Gorkha, Lamjung and Tanahun lie at the foot of the mountain. Hikers and mountain lovers from Nepal and all over the world will find a tourist attraction which is unique in Nepal. It is the perfect start for a hike on the Gorkha Heritage Trail. The entire region will benefit.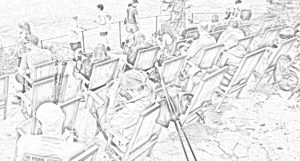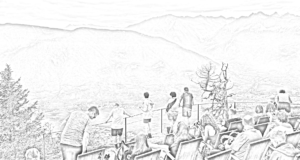 You can dive into the history of the famous mount Ligligkot: Once Drabya Shah, then brother of King Narahari Shah of neighboring Lamjung District established the small kingdom winning in the race organized to appoint a king at around 1616 BS /(1559 AD). Still the remaining stones of the ancient palace could be seen in the hill top at Ligligkot.
After the death of Yakshya Malla, the Gorkha kingdom was under Palpa's King Mukunda Sen. After the demise of King Mukunda Sen their sons couldn't control their big kingdom resulting in small kingdoms in Gorkha. In Ligligkot it was decided that whoever won the race from Chepeghat to the top of Ligligkot will be the king for the next year. However, some historians say that the starting point was in Chorkate on the other side of the Chepeghat. The race took place every Dashain on Tika day. The first race took place in 1604 BS. The local tribe of the Ghales always won until 1616 BS, when Drabya Shah, brother of the King of the neighbouring Lamjung district won the race. The Shah dynasty was established in the Ligligkot kingdom. His descendants formed the kingdom of Gorkha. Prithvi Narayan Shah united all kingdoms and founded Nepal. Today, the re-enactment of the race draw huge crowds to the top of Mt. Ligligkot in October.
Donation form