All applications for clinical traineeships or medical assignments in Nepal are handled directly by Nepalmed e.V. and not by the respective local hospital.
Interested students please contact Ms. Marx via email at the following email address: work.nepal(at)gmx.de.
Please consider the following: Please note that Nepal is one of the poorest countries in the world. Infrastructure such as houses and roads are often in a miserable condition. Fatal traffic accidents are far more frequent than in our country. Drinking water, electricity or artificial light are not a matter of course. Please do not arrive at our partner hospitals at sunset. Otherwise, the hospital staff waiting for you will not be able to reach their home because of the darkness. Hygiene practices are not comparable with your accustomed standards. You have to expect cockroaches, spiders and rats in the hospital. In some cases, accommodations are not inhabited for a longer period of time, so that you sometimes have to resort to brooms or mops first. Nepalese culture is very different from ours. Misunderstandings can easily occur, e.g. nodding the head means NO, wiggling the head sideways means YES.
At the bottom of this page you will find testimonials from former students. In addition, since June 2022 there has been a Slack forum for new, current and former medical trainees sent to Nepal through Nepalmed. There you can exchange information with each other and ask informal questions. It is not supervised by Nepalmed, but is run independently by the students. If you would like to participate, simply send an email to socialmedia(at)nepalmed-stiftung.de .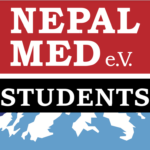 Selection of our partner hospitals
Amppipal Hospital, Palungtar Municipality – 11, Gorkha
Amppipal Hospital has 46 beds.
Specialties: Basic medicine of all specialties, trauma surgery.
Camps several times a year: e.g. ENT, dentistry, ophthalmology, neurology.
More information on the Hospital website
Kathmandu Model Hospital (KMH)
Pradarsani Marg, Kathmandu
KMH has 130 beds.
Specialties: Internal medicine, surgery, gynecology, general medicine, pediatrics, orthopedics, psychiatry, ENT, dermatology, neurology, ophthalmology, acupuncture, physiotherapy, dentistry, 24-hour emergency service.
More information on the PHECT website.
Devdhoka, Kirtipur Municipality, Kirtipur.
Kirtipur Hospital has 100 beds. The parent hospital is KMH.
Departments: Emergency room, 24h monitoring station, outpatient department, gynecology, general medicine, internal medicine, ENT, pediatrics, surgery, urology, radiology and plastic surgery.
For more information, visit the Kirtipur page and the PHECT website.
Gaushala, Bagmati Bridge, Kathmandu
No inpatient treatment, only outpatient clinic with approximately 75 surgical procedures per week.
Specialties: Ophthalmology.
More information on the Hospital website.
Annapurna Neurological Institute
Maitighar, Kathmandu
3 wards with 40 – 45 beds.
Specialties: Neurosurgery, neurology, surgery, urology, gynecology, orthopedics and nephrology.
More information on the Hospital website.
B.P. Koirala Institute of Health Sciences (BPKIHS)
Buddha Road, Dharan 56700, Nepal
University hospital with 700 beds.
Departments: Internal medicine, surgery, pediatrics, obstetrics, gynecology, psychiatry, maternal and child health care, orthopedics, ENT, dermatology, ophthalmology and oral surgery.
Tropical ward for patients with tropical and infectious diseases.
More information on the Hospital website.