We conduct research studies concerning various health aspects in Nepal. The following brief abstracts summarise the studies to-date and provide an insight into current, health relevant topics. 
Mother and child health 2007-2008 at Amppipal Hospital, District Gorkha
Abstract: Questionnaire survey of diagnoses made in the hospital, breast feeding, frequency of consultations in health facilities, measurement of height, weight, upper arm circumference of children aged 0 to 15 years. 2574 cases recorded (births, outpatient and inpatient presentations / treatments), 115 newborns, 1465 children measured.
Results:
7.9% of all newborns with a birth weight <2500g> 25.5% underweight, 26.2% stunted, 22.1% malnourished
7.6% mean upper arm circumference (MUAC) 21.3% emaciation (thinnes)
2.2% overweight age group 0-5.9 years
0.4% overweight age group 6-15.9 years
approx. 10% of the children presented therefore require inpatient treatment and therapeutic nutrition
Risk factors for malnourishment:
female sex,
high number of siblings,
adolescents are more likely to suffer from acute malnutrition,
lack of maternal education,
illnesses are a risk factor, but mostly malnutrition is pre-existing,
inadequate nutrition during illness.
Main diagnoses:
febrile respiratory diseases (39%)
diarrheal diseases (11.2%),
accidents (11.5%).
Access to medical help: 98.3% (63.1% within 24h)
Reasons for consultation:
64.5% febrile infections, respiratory infections, diarrhea (no gender difference),
help received to 61.4% in the hospital, to 37.1% in the ambulance, only 41.1% consultation with a doctor, 62.9% were never hospitalized before,
stay in hospital 3-5 days (fever, cough, diarrhea),
2.5 h walking time (n = 1394, range 1 – 60 hours).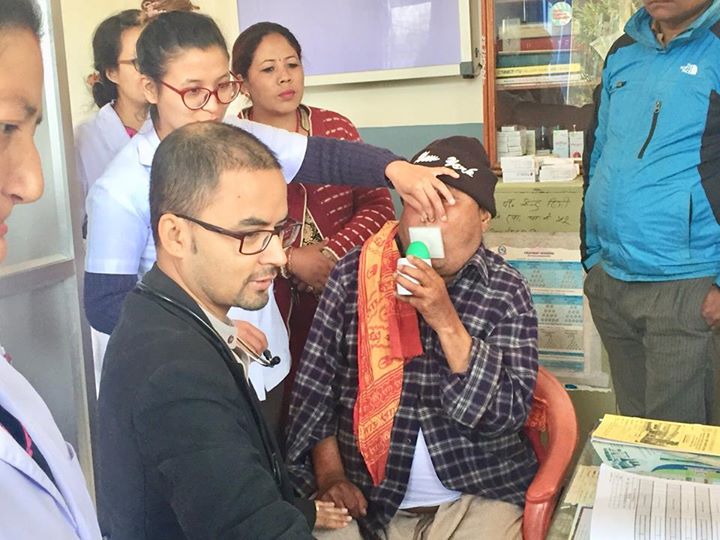 Lung function measurement on adults 2008-2009 at Amppipal Hospital, Distrikt Gorkha
Results:
11 % of 584 patients were in the hospital because of a respiratory disorder
average height: male: 163 cm, female: 153 cm, average weight: male: 55.6 kg, female: 47.8 kg and average body-mass-index: male: 20.8 kg/m2, female: 20.3 kg/m2
Spirometry was evaluable in 527 of 584 measurements. 57 measurements could not be used because of the difficult maneuver.
Female patients participated in particular: out of 437 spirometries, 293 were female
Obstructions were found in 14% of the measurements (female 12%, male 22%).
Of the men with obstruction, 56% were smokers and 10% were ex-smokers.
Of the women with obstruction, 57% were smokers and 10% were ex-smokers.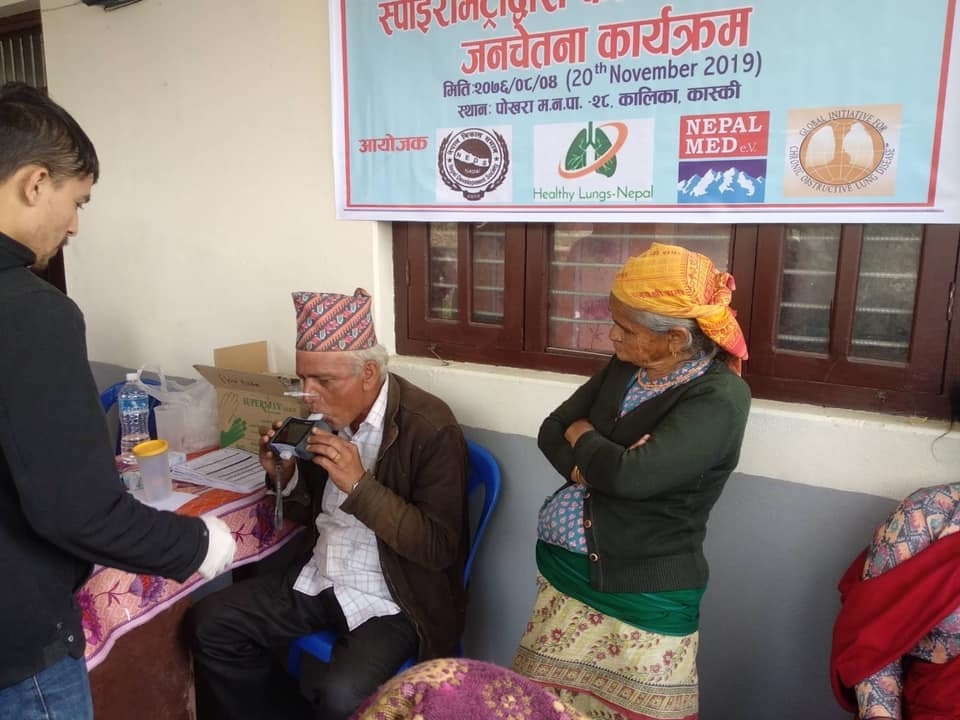 Allergies and lung function in Kathmandu valley 2010-2011 at Model Hospital, Kathmandu
Background: Is the high rate of airway obstruction in Amppipal also detectable in Kathmandu and is there a possible connection to allergies?
Abstract: Spirometry and allergy test (Prick), determination of total immunoglobulin E in adults, evaluation at the University of Magdeburg is still ongoing.
Infection with Helicobacter pylori 2014 in Amppipal Hospital, Gorkha district
Background: In Germany and Kathmandu the gastric bacterium H.p. a very common pathogen and an important cause of gastric ulcers.
Abstract: Antibody determination against H.p. in the blood of adults, questioning about living conditions, hygiene.
Results:
200 measurements and respondents
average age: 45 years
average weight: 52 kg
only 17 patients had antibodies against H.p.
only 33 patients have their own water supply point
only 13 have their own toilette
only 7 patients own a refrigerator
Talk:
Janich S: Vielerlei Maß. Bonn: Deutsch- Nepalische Gesellschaft e.V.; 2008. Jahrestagung 2008 Apr 26-27.
Posterpresentation:
Janich S, Wiesmeth S, Devkota D, Giri BR, Twork S, Wankie C, Friis R, Kugler J: Children in Rural Nepal: Reasons for Seeking Medical; Aid and Parental Supportive Behavior at Last Attendance. San Diego: American Public Health Association; 2008. 136th APHA Annual; Meeting and Exposition 2008 Oct 25-29.
Janich S, Wiesmeth S, Devkota D, Giri BR, Twork S, Wankie C, Friis R, Kugler J: Breaking the Vicious Circle of Malnutrition and Seeking Medical Aid in Rural Nepal by Adequate Provision of Food during Sickness? – a Cross- Sectional Study in Amppipal Hospital, Gorkha.
Nepal. Istanbul: World Federation of Public Health Associations; 2009. 12th World Health Congress Apr 27- May 1.
Article:
Janich S: Vielerlei Maß. Nepal Information 2008, 101(2):31-33
Janich S, Dittrich S, Giri BR, Hussack S, Kugler J: Ernährungszustand von Kindern im Amppipal Hospital, Gokha, Nepal. HeilberufeScience, 2013. Doi: 10.1007/ s16024-013-0177-9.
Children in Rural Nepal: Reasons for Seeking Medical Aid and Parental Supportive Behavior at Last Attendance; Sylvia Janich, Susanne Wiesmeth, Dinesh Devkota, Babu Ram Giri, Sabine Twork, Che Wankie, Robert Friis, Joachim Kugler. published as poster at APAPHIN 2009.
Children in Rural Nepal: respiratory diseases are most frequent diagnoses when consulting health care services. Sylvia Janich, Arne Drews, Reingart Seibt, Dinesh Devkota, Babu Ram Giri, Che Wankie, Robert Friis, Klaus Scheuch. published as poster at European RespiratoryCongress Vienna, Austria 2009 European Respiratory Journal (2009) Vol.34 Suppl.53, S.626s.
Adults in rural Nepal: Are obstructive ventilatory disorders frequent? Arne Drews, Gunnar John, Toni Bergmann, Reingart Seibt, Janardan Devkota, Babu Ram Giri, Klaus Scheuch. published as poster at European Respiratory Congress Vienna, Barcelona 2010.
European Respiratory Journal (2010) Vol.36 Suppl.54, S.767s – awarded 3rd prize at Mid-German Respiratory Society Congress in Zeulenroda, Germany 30.10.2010