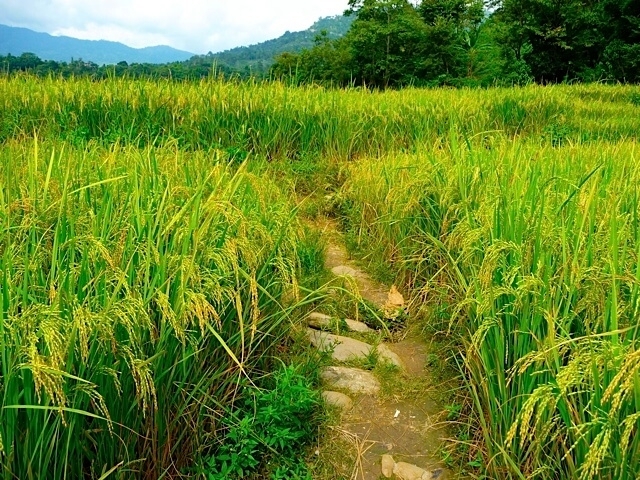 Our project GORKHA HERITAGE TREK is part of a rebuilding aid program after the earthquake of April 2015 in the Gorkha region.  The local participants received financial and logistical help as support. New sources of income and work were generated for the local population. Not just those directly involved profited, but also their neighbors, who could sell agricultural products and souvenirs. Nepalmed is actively involved in the redevelopment of the trail and the protection of the environment by training the participants.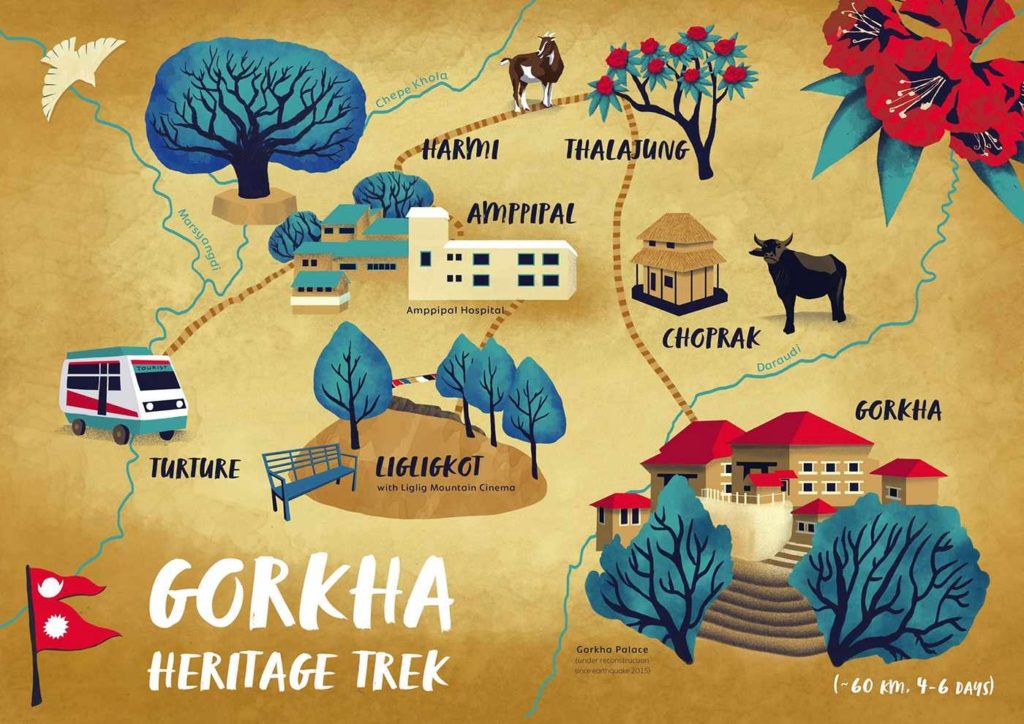 The GHT offers you:
Hiking in nature, off the worn tourist tracks
Breathtaking views of Annapurna and Manaslu
Numerous cultural sights
Day-tours in comfortable walking time (3 – 7 h) at moderate heights (500 – 2,000 m), which makes the trail suitable for less experienced hikers 
Accommodation with local families for an authentic insight into Nepalese rural life 
Hiking in small groups for a familial atmosphere
Your support enables protection against rural exodus.
Day 1: Turture – Tatipokhari – Amppipal: Start at approx. 500 m altitude, walking time 6 – 7 h, 15 km. Predominantly uphill until reaching Amppipal Hospital, overnight accommodation with local families, potentially in the Hospital's guesthouse.
Day 2: Amppipal – Ligligkot: Start at approx. 1,000 m altitude, walking time 3 – 4 h, 5 km. There is an opportunity to explore the Hospital and to climb the historic Ligligkot mountain (1,450 m). The magnificent all-round view rewards the effort! 
Day 3: Amppipal – Harmi – Thalajung: Start at approx. 1,000 m altitude, walking time 6 – 7 h, 13 km. The most strenous part of the trek is downhill to Harmi, followed by a long steep ascent to Thalajung. Overnight stays are possible with local Gurung families.
Day 4: Thalajung – Chhoprak: Start at approx. 1,000 m altitude, walking time 6 – 7 h, 13 km. Short ascent to the Siransokot with a wide panoramic view. A small temple and the ruins of historical buildings can be visited here. Downhill to Chhoprak through dense jungle, in which all kinds of wild animals and typical flora can be found. An overnight stay
is possible at a local lodge.
Day 5: Chhoprak -Gorkha: Start at approx. 1,000 m altitude, walking time 6 – 7 h, 13 km. The trek continues downhill to Surkate on the Daraudi River. Here follows the ascent to Gorkha, the ancestral seat of the former Nepalese royal family.
Images of the Gorkha Heritage Trek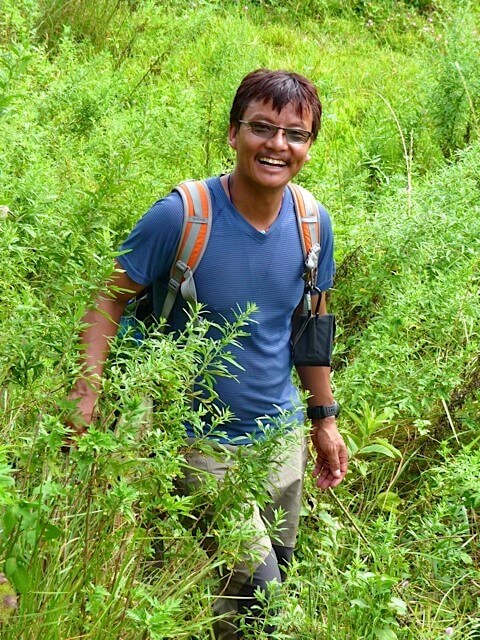 More information and booking via Dawa Sherpa
Inquiries about the hike by email. Please replace the square brackets.
Flyer Gorkha Heritage Trek: GHT English
Article by Dr. Birgit Kirsch about the Gorhka Heritage Trek in the newspaper Nepal-Information (issue 115): Article (German)